Faux Finishing Walls, Doors & More
Since 1995, when I first started doing Faux Finishing, almost every homeowner that I met with on an interior painting estimate has asked me many of the same questions.
Is Faux Finishing still as popular as it used to be. What are the advantages of Faux Finishing vs Wallpaper. I have wallpaper in my bathroom and kitchen now, and I would like to get it removed, should I put in a different wallpaper or should I have a Faux Finish in the room? What can you do with these columns in my entrance foyer?
'll bet some of  these same questions have crossed your mind a time or two.  Well what I tell my clients is, Faux Finishing comes and goes, depending on trends. Some homeowners still love it, other homeowners just want paint.  Every homeowner is different, many homeowners like the look of Faux and are tired of wallpaper, many homeowners are not quite sure exactly what a Faux Finish is.  Many clients hate the process of removing the wallpaper and the mess it makes.  The nice thing about Faux, when you get tired of it, you just paint over it, where with wallpaper it is not quite as simple.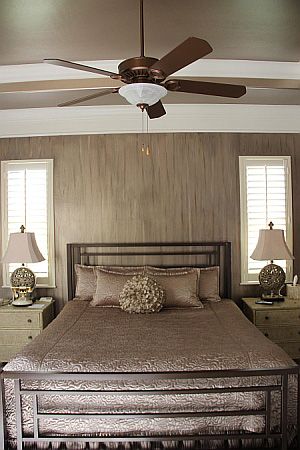 Keep in mind that with different Faux and decorative finishes they will transform your home's interior and exterior surfaces into a visually stunning design. Ron's Painting-Fort Myers can add texture and a personalized artistic statement to ceilings, walls, columns, niches, tray ceilings,front entrance doors, garage doors, crown and trim moldings.  We can even add a molding on a plain wall and add a Faux finish inside of the molding to create a who new look to a room. We use a lot of metalic paintings, and glitter paints. We even faux finish doors in a distressed wood grain effect.

Please visit our Gallery and view some of our Faux Finishes, Interior painting, and Exterior painting projects that we have done over the years in Fort Myers, Sanibel, and Bonita Springs areas of Southwest Florida.  We have our gallery set up in categories of different types of Faux finishes and painting projects.  Please check back often to view new photo's of our latest Faux finishes, Interior painting and exterior painting on Our Latest Home Painting Projects page of our photo gallery.
For those homeowners who are thinking about adding a Faux Finish to the interior of their Southwest Florida home and would like to see Faux samples and get some painting ideas, Ron's Painting has a showroom that our clients can come and look at Faux Finishing Samples.  We have a display set up in our studio on Park Meadows Dr. and are in the process of redecorating our showroom to add even more Faux Finishing samples.  Please call us to schedule an appointment and view our Faux Finishing display.
Faux Finishes We Offer
Color washing

Stri'e

Stripes

Distressed and wood graining of crown molding, garage doors, front entrance doors

Marbled columns and walls

Brick/Block

Elephant hide

Fresco

Metallic paints, plasters, and faux

Leather

Geometrical design

Crystal Brush Glitter